Battersea Dogs & Cats Home
Our team was tasked with designing a state-of-the-art catering facility for two newly leased arches under the Battersea Park overground train line, owned by Network Rail.
The facility needed to include a commercial kitchen, serving area, and dining room, allowing the catering company to function independently within the Battersea building.
The space was designed to cater to both visitors of the Battersea Dogs and Cats Home and the general public, requiring access from both sides of the train line. In addition to the catering areas, the facility included customer restrooms, a plant room, and staff changing facilities.
The kitchen was designed to feature catering storage, a preparation area, cook line, pass, and wash-up facility. The servery needed to accommodate a chilled grab-and-go offer, impulse items, hot meals, soup, cakes and bakes, and premium coffee options. The dining area was designed to seat approximately 80 guests, featuring a variety of furniture styles to create an engaging and comfortable space.
Given the unusual space constraints, the dry storage, refrigeration, and cold prep areas were situated perpendicular to the main kitchen, featuring medium-height refrigerators with reduced depth. The store's rear location facilitated a smooth flow from storage to prep to cooking and serving, while also providing easy access to the main kitchen entrance for goods delivery.
The kitchen, situated beneath the railway line, predominantly used electric equipment, with the exception of a 10-grid combination oven, which required gas due to limited electrical supply. The equipment selected catered to the client's food offerings, with a ventilation system, mechanical fresh air supply, and fire suppression, compliant with DW/172 regulations.
A heated pass ensured seamless food transfer to the servery without interaction with the wash-up area, while the wash-up was strategically located to prevent cross-contamination and provide easy access for returns. The servery counter was designed to accommodate both cold and hot food offerings, catering to various seasons and customer preferences.
The back bar featured a high-speed oven, backup refrigeration, and a premium coffee machine, as well as a sink and hand wash basin to meet EHO regulations. The space between the two arches housed two back-to-back cutlery and condiments units, serving both dining areas.
The dining space showcased an eclectic mix of furniture, including loose tables and chairs, soft lounge seating, high poseur seating, and bespoke banquettes, creating a modern, homely atmosphere in line with the Battersea brand.
Space was awarded the complete interior fit-out contract, including the manufacturing, supply, and installation of the kitchen, servery counter, and ventilation systems, as well as full HVAC systems. Space Interior Contracts handled all aspects of the fit-out, including mechanical and electrical supplies, walls, floors, ceilings, decoration, plant deck, lighting, and decorative interior fittings such as tiling.
As Principal Designer and Contractor, Space Interior Contracts prepared construction phase plans, liaised with local authorities, and secured planning permission and approvals for external ventilation plant and facades. Our in-house MEP consultant worked closely with the team to deliver the new HVAC system. The project commenced in December 2019 and was completed in February 2020, taking approximately 12 weeks to finish.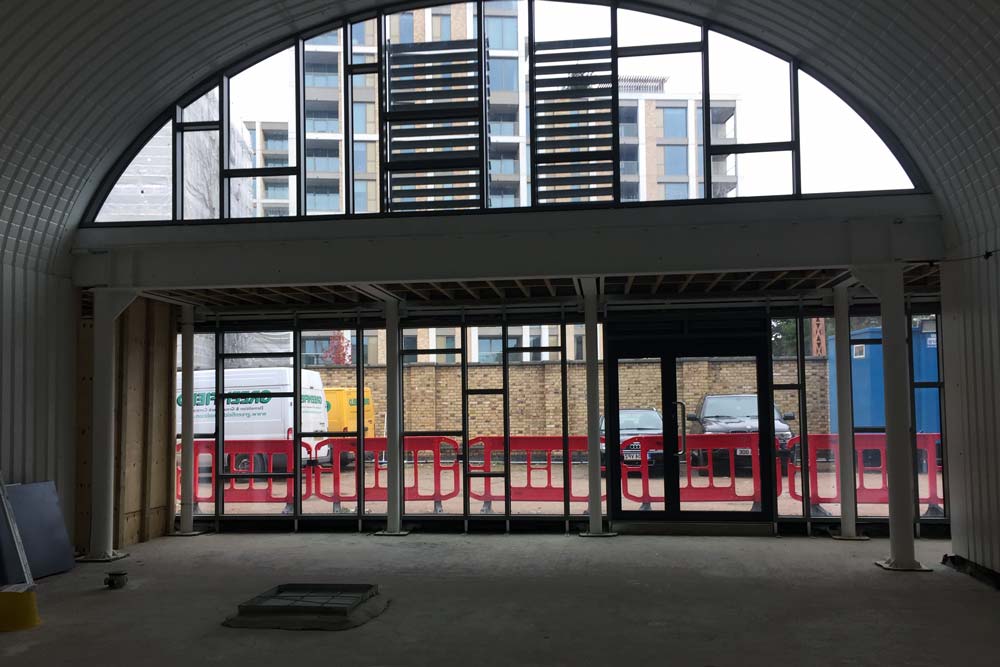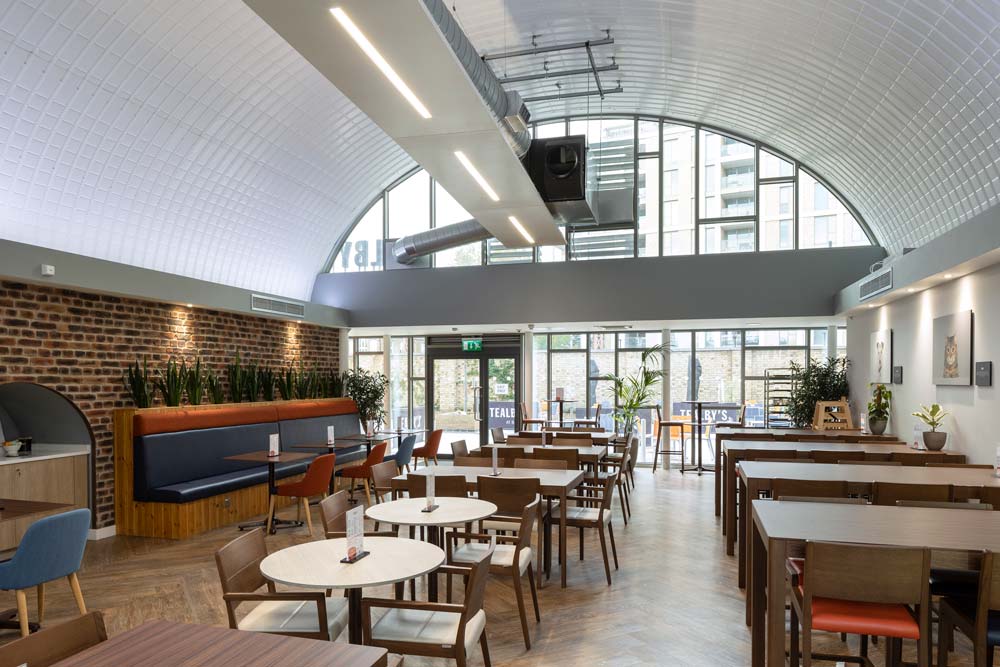 Check out Instagram for inspiration