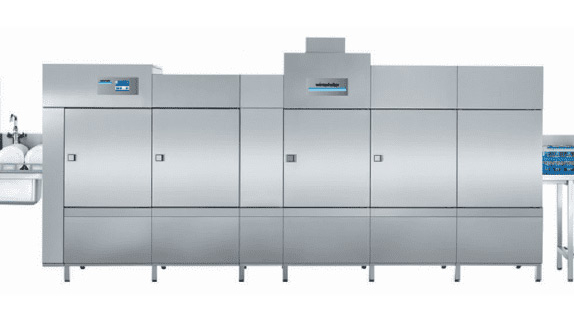 Space install energy saving Winterhalter Commercial Dishwasher at University of Winchester
David Morton, Catering Manager at the University of Winchester had two significant problems with his ware-washing operation at the busy Food Hall in the main campus.
Firstly, his ageing commercial dishwashing was inefficient with poor wash results and ongoing maintenance costs that were becoming untenable.  Secondly, the old machine, fed from his hot water supply, was draining his boiler tanks of expensive hot water on a daily basis leaving the kitchen team with no hot water at the sinks from around 2pm each day, with the inevitable detrimental effects to the efficiency of his operation.
David and his team have focussed on sustainable solutions in their operation for some time and were aware of Space Catering Equipment through their 'Guide to Sustainable Kitchens' distributed at the TUCO conference.   Space suggested that the old machine was replaced with one of Winterhalter's energy efficient MTR rack commercial dishwashers that are class-leading in terms of water and energy use.  This represented a huge technological advance improving wash quality, reducing water consumption AND saving energy.
What really excited David was the proposal by Space that the dishwasher could be fed using the 'free hot water' by recovering heat from his remote refrigeration plant.  This not only addressed the hot water shortage but also meant that the Winterhalter dishwasher used virtually no electricity for heating water, resulting in massive savings.  It was calculated that the pay-back period for the heat recovery system would be less than 18 months. In fact it is estimated that the whole scheme, including the new dishwasher, would be self-funding within five years.
Six months on and David's estates team have been monitoring energy use, and the 'After' graph to the right shows the stored water temperature never dropping below 47 degrees with a much quicker recovery time.  Added to which there have been no dishwasher breakdowns and wash results are massively improved.
David Morton (University of Winchester) "This energy-saving investment has been a huge success, and quite simply I think the results speak for themselves"
https://www.spacegroupuk.com/wp-content/uploads/2014/10/space-install.jpg
574
574
admin@spacegroup
/wp-content/uploads/2022/10/space-group-logo-2022-300x58.png
admin@spacegroup
2014-10-07 15:37:32
2023-05-30 09:44:33
Space install energy saving Winterhalter Commercial Dishwasher at University of Winchester