Being new to the company I wanted to get a better insight into how the different Space Group teams  work. I thought it would be nice to sit down with people from different areas of the business and ask them about working at Space Group! I have started this small series of blogs with the design team.
So, the life of a Space designer:
When a potential project comes our way the design team gets stuck in and produce proposed layout plans for the space. Whether it's a new commercial kitchen design or front of house servery counters and furniture, our designers liaise with our clients to make any amendments until our designs capture the clients brief. The design team follow a project through to completion, producing service drawings, elevations and altering layouts to overcome any obstacles discovered on site. For bigger projects the design team create interior design schemes, produce visuals and 3D walk through videos so our client can really get a feel of what their space will look and feel like before it is installed. Here are some example pieces of work which the design team have created: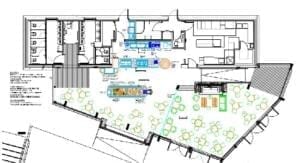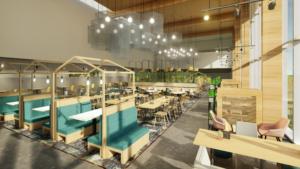 A couple of our lovely designers gave me some insight into how they find it working at Space Group:
What is your favourite part about your design role?
P: I love how the drawings are like puzzles, you have to make sure all of the pieces fit together in the right way.
C: Creating a functional operational space from a blank drawing sheet and turning a written brief into a successful catering environment.
What is the most challenging part of your role?
P: I find the most challenging part is trying to fit additional work in when something crops up- like me coming to ask these questions!
C: 8:30am, no seriously I would say keeping client's dreams within budget!
Tell me something good that has happened today.
P: Today I have made the impossible possible, I love the challenge of trying to fit the pieces together in the space allocated.
C: I bought a big van in readiness to start my camper conversion – even using design expertise in home life!
What is your favourite type of project to work on?
P: I enjoy working on the big production kitchens. I also enjoy the diversity of drawing front and back of house designs.
C: Consultancy projects where I am a part of a client led design team.
Can you name one of your favourite projects that you have worked on?
P: Theatre by the lake.
C: Taunton School or Dyson.
I really got the feel that they love what they do and enjoy searching for new design innovations and materials.
To stay up to date with all the latest news from Space Group, follow us…
https://www.spacegroupuk.com/wp-content/uploads/2019/09/day-in-the-life.webp
686
1086
admin@spacegroup
/wp-content/uploads/2022/10/space-group-logo-2022-300x58.png
admin@spacegroup
2019-09-18 11:59:05
2023-05-25 16:42:04
Day in the life of… a designer at Space Group