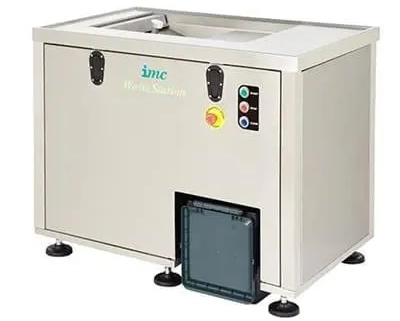 How does the WasteStation work?
Waste disposal is a major issue for organisations, for instance it is particularly difficult to dispose of effectively, resulting in high waste disposal costs.  Food waste contains 80% liquid. The IMC WasteStation grinds food waste into fine particles and forces the excess liquid out. This excess liquid is disposed directly into the drain, resulting in a fraction of the solid food waste to dispose of. The photo below indicates the reduction of your waste disposal requirements with the IMC WasteStation.
The WasteStation comes in two sizes, the standard and the compact, which is ideal for small kitchen spaces or venues with less covers.
Benefits of the WasteStation:
The IMC WasteStation reduces your food waste, but the food disposal costs aren't the only benefit of this unit. Further benefits of the IMC WasteStation include:
Transport savings, with less to dispose of you are reducing your waste collection costs.
Storage savings, by reducing the volume of waste your on-site waste storage requirements will also be reduced.
Less waste to landfill, the remainder of the solid food waste can be used for biogas, biomass pellets or compost.
Process capacity is 700kg of food waste per hour (large version) and 100kg food waste per hour for the compact version.
Reduces the volume of food waste by 80%
This short video demonstrates the capabilities of the WasteStation Compact, which remains relevant for the larger version:
The IMC WasteStation is the perfect option to help with your waste management, not only helping you with your waste management but also helping the environment by reducing the amount of waste that goes to landfill- win win!
To stay up to date with all the latest news from Space Group, follow us…
https://www.spacegroupuk.com/wp-content/uploads/2020/03/IMC-Wastestation.webp
333
400
admin@spacegroup
/wp-content/uploads/2022/10/space-group-logo-2022-300x58.png
admin@spacegroup
2020-03-10 11:33:33
2023-06-05 12:25:20
IMC WasteStation